Welcome to the Mappliqué Website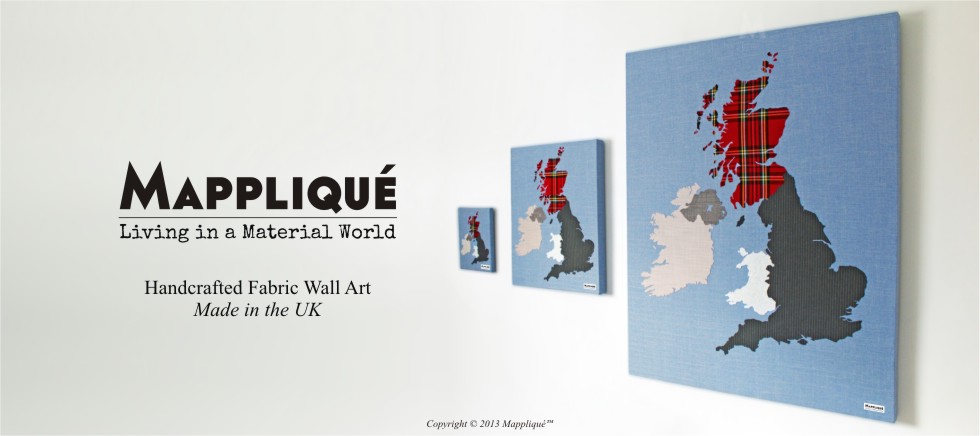 Starting as an idea in January 2013, months of research and experimentation have resulted in a new range of contemporary wall art.
Fabrics are born out of a nation's efforts, through wars and industry, agriculture and pop-culture, yet have been rarely referenced as a means of cultural identity, until now.
We're all aware of the image of the bicycling Frenchman in a striped top and the British office worker in a grey pinstripe suit with bowler hat, but there hasn't been the geographical expression to proudly reference the rich and varied textiles background of countries across the globe.
Whilst reductive, stereotypes are generally formed through centuries of historical repetition and most nations are rightly proud of their rich textile history, from the many tartans in Scotland to the numerous fabrics invented across France.
A love of maps and fabrics has led to the launch of Mappliqué, a new collection of wall art that puts textiles at the forefront of national identity. Hand-crafted pieces of wall art are lovingly created using relevant fabrics to represent each nation. Whilst the original art pieces are priced to reflect the time and effort that goes into creating each handmade work, the fabric maps will also be available soon as accessible reproduction giclée prints on 100% cotton 315gsm paper.
A simple concept, that surprisingly has never been done before, the first fabric map to be issued by Mappliqué is of the British Isles and is created from Tartan to represent Scotland, grey pinstripe for England, knitted wool for Wales, and linen-style textiles for Ireland and Northern Ireland. The fabric maps are made to order in three sizes, with a choice of tartans to personalise each piece, and will be reproduced soon onto unframed cotton paper giclée prints in sizes to fit standard picture frames.
A portmanteau of Map and Appliqué (the technique of applying one material to another), Mappliqué can also be interpreted to mean "applies to me". Inspired by an appreciation of textile heritage and the nostalgic, the hand-crafted fabric maps feel like vintage heirlooms that have been passed down through generations, yet the contemporary and stylish wall art looks appropriate in any interior, from minimalist spaces to cosy homes, and bespoke pieces can be commissioned to reflect the environment in which they are destined to be displayed.