Pinstripe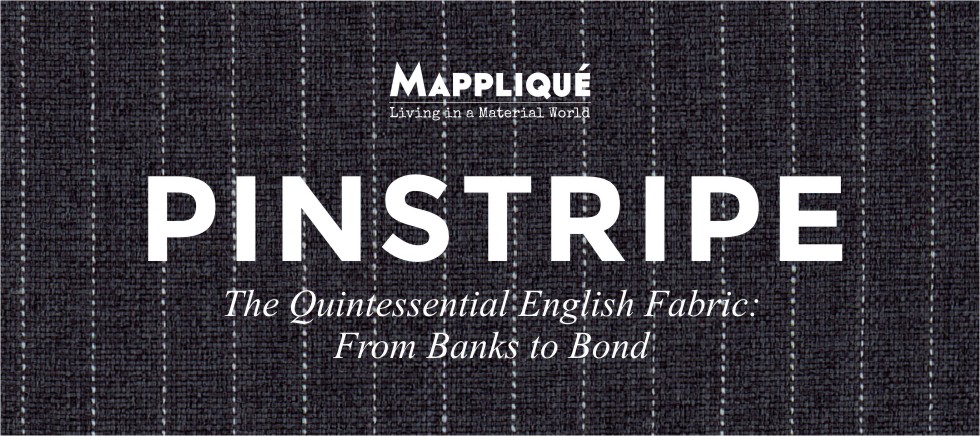 The specific origin of pinstriped fabric becoming the ubiquitous uniform of office workers is disputed but it's indubitably British, or rather English to be exact.
Some believe that the striped trousers of military regalia were repurposed to become part of the uniform for city and bank workers (with each bank having it's own identifiable stripe) whereas others uphold pinstripe's sporting background, having been adapted from outfits for attending boating events, cheering rowers along from the river banks.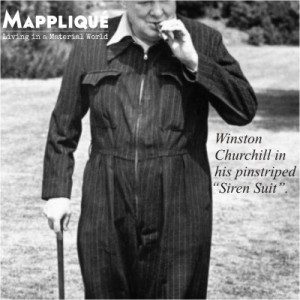 Regardless of it's military or sporting origin, pinstripe suits quickly became the outfit of bank clerks and came to define respectability, reliability and trust. Ironically, the gangsters of Chicago probably adopted the stripe suit for this very reason, to cover their nefarious activities, but got it wrong by making their suits too flashy, widening and thickening the pinstripe to a brash chalk stripe.
Winston Churchill, one of the most globally recognisable English Prime Ministers, was often pictured in one of his grey pinstripe suits, and he even commissioned his tailor to make a "siren" suit, which was essentially a pinstripe boiler suit he wore when staying up all night during air raids.
Monty Python and John Steed of the Avengers become successful British exports and defined Englishness during the 1960s to maintain the standing of the pinstripe suit.
During the intervening years, a subtle grey pinstripe suit has been the default uniform for office workers who don't want to stick to plain and dull black suiting, or be mistaken for a sommelier in a restaurant.
Despite bankers losing their trustworthy image in recent years, due to sub-prime activities that brought about a global financial crisis unchecked by government regulation, the pinstripe suit has survived and still perpetuates it's Englishness and trustworthiness globally, as stylishly demonstrated by the longest-serving movie spy James Bond in Skyfall.
Pinstripe endures as a stylish, English fabric renowned the world over and long may it continue.
BRITISH ISLES
When it came time to choose a textile to represent England in the fabric map of the British Isles, the natural choice was a grey pinstripe fabric. The fabric features on the original fabric maps as well as on the reproduction giclée prints.